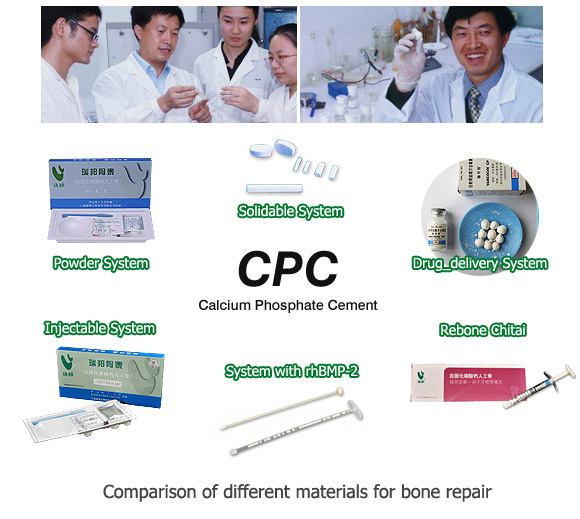 | | | | | | | |
| --- | --- | --- | --- | --- | --- | --- |
| Name | Final composition | Biocompatibility | Plasticity | Exothermal behavior | Absorption in vivo | Other remarks |
| Autograft | HAP | Good | Difficult | -- | Easy | Long period of substitution |
| Allograft | HAP | Relatively good | Difficult | -- | Easy | Long period of substitution,and Immune response |
| PMMA | PMMA | Bad | Easy | Strong | Hard | -- |
| Metal | Metal | Bad | Difficult | -- | No | -- |
| TCP ceramic | TCP | Relatively good | Difficult | -- | Easy | Too fast degradation |
| HAP ceramic | HAP | Good | Difficult | -- | Hard | No degradation |
| CPC | Amorphous HAP | Excellent | Easy | A little | Easy | Degradation is equal to the formation of new bone |
* Self-setting calcium phosphate cement (CPC) is one of the best materials for bone defect repairs at the moment.
Its main properties are as follows:
(1) Easy shaping and handling;
(2) Self-setting with little exothermal effects;
(3) Biodegradability—suitable for bone replacement
(4) Excellent biocompatibility and osteoconductivity
CPC overcomes the following shortcomings of the other bone substitute materials.
(1) The source of the autograft is very limited and the patient must suffer from the secondary operation and complications in the bone-supplying sites.
(2) It will produce immunity reaction and has potential risks of spreading disease by using allograft.
(3) The biocompatibility of PMMA is bad and its strong exothermal reaction will burn the surrounding tissues. The PMMA monomer may cause the sudden death of the patients.
(4) Hard plasticity and no degradation of HAP ceramics.
Moreover, CPC has the following advantages:
(1) Relatively high compressive strength (≥35MPa)
(2) No disturbance to CT and MRI (magnetic resonance imaging)
* CPC can be made into different shapes of solidified products to meet the various and special requirements of the doctors.
* CPC can be used as a carrier for various drugs (anti-tumor, anbiotics, etc.), which can release in situ with the controlled rate.